As technology continues to play an increasingly vital role in our lives, the task of finding top technical support companies for businesses has become essential. However, with a multitude of options available, it can be challenging to identify the most effective and expert solutions. This often leads to wasted time and resources on inadequate services before discovering a suitable one that meets specific requirements.
In today's fast-paced world, even a minor technical glitch can cause significant setbacks for individuals and companies. Therefore, selecting a reliable technical support company that can promptly address issues and minimize downtime is crucial. In this article, we will provide a comprehensive analysis of the top technical support companies in the USA for 2023, examining their features, pricing, and customer support to help businesses make an informed choice.
Meet The Best Providers: Top 10 Tech Support Outsourcing Companies in the USA 2023
Presented below is a compilation of the top 10 tech support outsourcing companies in 2023 that have established themselves as leaders in delivering exceptional technical support services. Each company is accompanied by a brief overview outlining their main strengths.
1. Helpware with Its Innovative Technical Support Services
Helpware is a technology-focused American enterprise with a global presence, including offices in the USA, Ukraine, Mexico, the Philippines, Germany, and other locations on four different continents. Its expert teams can handle complex technical issues and provide exceptional customer support in diverse industries.
Helpware prioritizes flexibility and quick adaptation to any situation when delivering outsourced technical support services. The company understands that each project is unique, and they are committed to making changes to predetermined plans for the project, upskilling their workforce, and quickly adapting to the latest technology based on your customers' needs.
Helpware's global scale, with offices across different continents, enables the company to tailor bespoke teams and provide service that ensures success for their esteemed clients. Helpware takes pride in offering cost-effective solutions without compromising on quality, making their tech support services accessible to businesses of all sizes. Helpware caters to clients worldwide and provides support in various languages.
Main Features:
Leverages advanced AI-powered tools and technologies to enhance our technical support services, including data labeling, automation, and chatbots, to streamline our workflows and improve efficiency.
Covers all levels of tech support from simple technical problems to sophisticated issues.
Has certified technical support specialists, equipped with the right tools, who are available round the clock to deliver prompt and efficient solutions.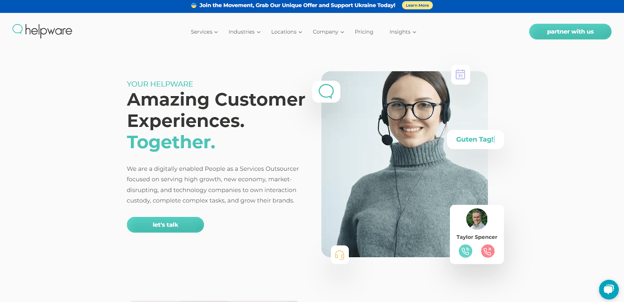 2. Plaxonic Technologies Values Digital Transformations
The Plaxonic tech support company comprises highly intellectual individuals who share a common belief in inventing and innovating advanced technologies to drive further progress. Their focus is on engineering intelligent IT and BPO solutions that meet and exceed the business expectations of customers. By combining many years of expertise with ambitious strategies, they strive to serve the constantly evolving corporate world with cutting-edge services such as Artificial Intelligence, Blockchain, Digital Transformation, Data Analytics, and more.
Established in 2013, Plaxonic Technologies is a dynamic tech company with a mission to redefine the corporate world and impact the tech industry.
Main Features:
Works with businesses of different types, sizes, and niches. The main industries remain healthcare, finance, and different startups.
Offers the following demanded services: tailor-made software development, mobile application design, digitalization of general business processes, and outsourcing of customer support assistance.
Uses a highly adaptable approach to technology stack selection. They carefully choose the most suitable tech support tools and platforms for each individual project to ensure optimal performance, scalability, and modularity.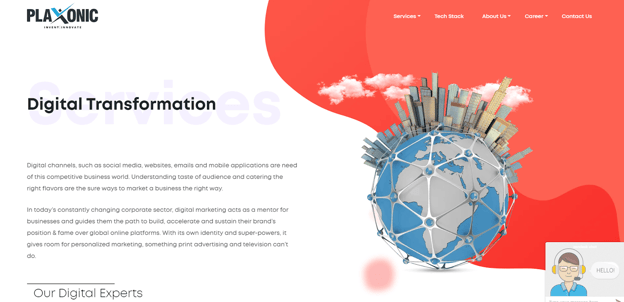 3. CrewBloom and Its Expert Virtual Tech Support Staff
CrewBloom is a remote staffing and consulting company that specializes in providing highly-skilled and experienced virtual professionals to businesses in various industries. Their technical service includes providing virtual staff for roles such as software developers, web designers, digital marketers, data analysts, and customer service representatives.
The tech support services company assists clients across a range of industries, including e-commerce, software development, healthcare, and real estate. Their aim is to facilitate connections between businesses seeking affordable scalability solutions and the most exceptional outsourced professionals worldwide, representing the top 2% of their field.
Main Features:
Offers flexible staffing solutions that can be customized to fit a business's unique needs, allowing them to scale up or down as needed.
Uses rigorous screening processes and interviews to distinguish top performers who will provide top-notch technical service for any business purpose.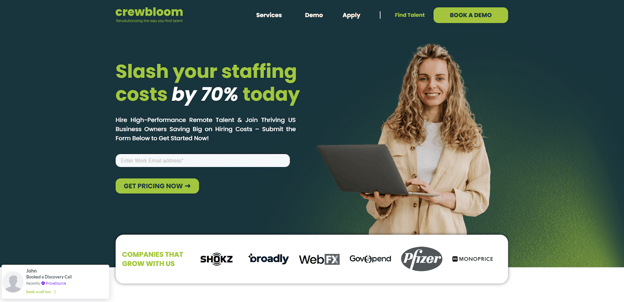 4. Fusion BPO Services: Savvy Tech Support Agents
Fusion BPO Services Group has been providing call center outsourcing services to more than 250 global businesses for over 33 years. With expertise in IT and tech-related matters, the company offers a range of solutions, including help desk support, platform and application assistance, and desktop and laptop support. The company operates from multiple locations across the US, Canada, El Salvador, India, the UK, Albania, Jamaica, Morocco, the Philippines, and Colombia.
They serve a wide range of industry verticals such as healthcare, finance, telecommunications, energy utilities, education technology, startups, information technology, travel, and more.
Main Features:
Has a team of 14,000+ trained agents from diverse backgrounds, and can be considered an ideal BPO partner for those seeking to expand their tech support team. The unique blend of culture and expertise that the company offers sets them apart.
Delivers round-the-clock technical support services and enhances the value of tech support by offering multilingual and multichannel solutions.
Implements cutting-edge tools, technology, and infrastructure along with a diverse talent pool from around the world. This ensures the delivery of high-quality services to all their clients.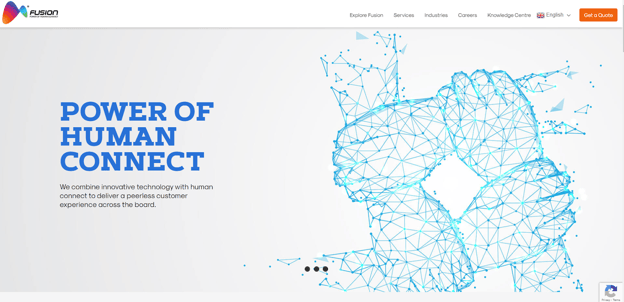 5. BetterWay Devs: Solid Experience in Technical Support Operations
With over 12 years of experience in assisting companies in operating and expanding their software engineering teams to achieve business goals, Better Way Devs is a Colombian enterprise. Their aim is to connect outstanding North American businesses with skilled South American developers using a sophisticated nearshore outsourcing approach. This allows for providing cost-effective employment options that enable companies to manage software development teams via legal labor contracts with local compliance.
Key services they provide are technical outsourcing, staff increase, business services, PEO, and more, ensuring that their clients have access to a comprehensive suite of solutions to meet their business needs.
Main Features:
Provides business expansion support and services for companies looking to expand their operations and help them achieve their goals.
Offers cost-effective employment solutions to enable businesses of all sizes to access skilled South American developers at a lower cost than hiring full-time employees in North America.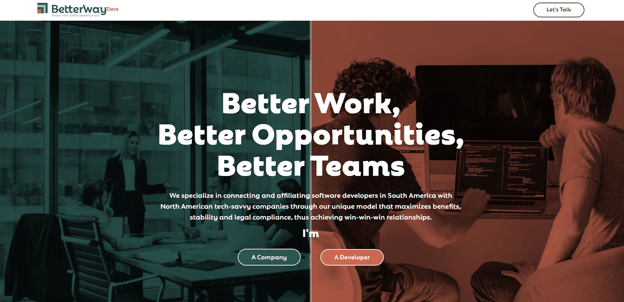 6. Excellent US Tech Support with Remote Team Solutions
Remote Team Solutions is a nearshore staffing company that assists US-based clients in creating and managing their workforce and teams in Mexico, serving businesses of all sizes and industries with a 99% client retention rate. Their core services include nearshore staffing for technical support teams, design and development departments, call center operations, sales, finance, administration, etc.
At Remote Team Solutions, the primary focus is to build exceptional virtual teams for numerous companies. As a leading B2B enterprise recognized by Clutch, they guarantee prompt and efficient results for their clients.
Main Features:
Delivers highly trained and skilled talents for exceptional technical support for small and medium businesses saving 60% in wage costs while getting top performers who will become an essential part of your company.
Helps to create a team of skilled senior and junior programmers and developers who align with your company's requirements. In addition, the company provides a diverse range of roles including software testing, web development, technical engineering, cybersecurity, IT consulting, and other specialized expertise.
Is flexible in adapting to the ever-changing business landscape. They understand that the needs of a company can shift quickly, and are equipped to provide customized tech support solutions that fit those evolving requirements.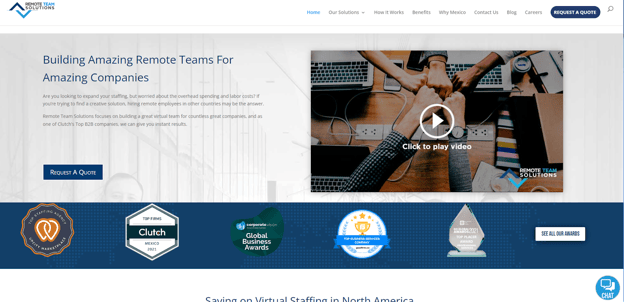 7. Prograsys Provides Tailored Datasets and Top Tech Support
Prograsys belongs to the list of top technical companies in the USA as well as a consulting firm that offers innovative solutions to businesses worldwide. The company was founded in 2011 and has its headquarters located in New York, USA. Prograsys has a global presence with offices in India and the UK, providing its services to clients across various industries.
The company delivers a comprehensive suite of IT, cloud computing, marketing, consulting, and tech services to small, medium, and large enterprises at competitive prices. Moreover, they provide an array of essential services that include website development and digital marketing. These services are geared towards giving your business a significant advantage over its competitors in the market.
Main Features:
Offers a custom-fit approach with personalized datasets, as well as data consultancy services, that are tailored to meet the unique needs of any business. They promise to provide the necessary tech support for every stage of your business growth, ensuring that you have the tools and insights required to achieve success.
Has a skilled team of data specialists, tech support agents, IT engineers, and analysts to provide top-notch service and the best possible results.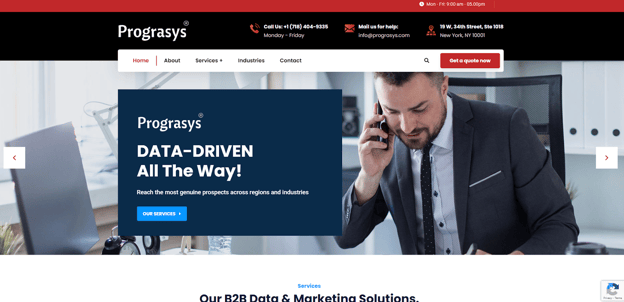 8. Unity Communications: Broad Base of Knowledge in Tech
Unity Communications is an international BPO and IT support company headquartered in the USA, with operational centers located in the Philippines and Costa Rica. Their primary focus lies in delivering the best tech support services to businesses seeking to supplement their existing workforce with small teams in the USA, Canada, UK, Australia, and Europe, especially for their initial outsourcing endeavor.
As a telecom integrator, they specialize in providing a fully integrated and uninterrupted CX through intricate IT, PBX, and special networks, enabling your organization to have the same global outreach as large corporations while maintaining the flexibility of a startup business.
Main Features:
Has proactive support for managing different IT environments and a broad base of knowledge that can cater to your requirements more effectively than an in-house team, while also being cost-efficient.
Provides streamlined IT tech support services. With Unity Communications you won't have to go through the trouble of submitting work tickets. Their IT support specialists are readily available to provide hassle-free assistance whenever you require it.
Offers a range of services starting from network security and maintenance and finishing with application and omnichannel technical support.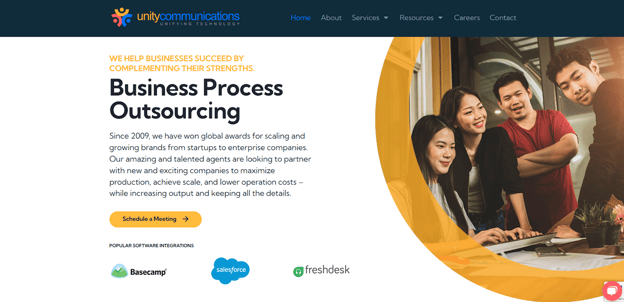 9. Qualfon Provider to Receive Prompt Tech Assistance
Founded in 1995, Qualfon is a global business and IT support services company offering contact center services and back-office processing. With a mission-driven approach and experienced leadership, Qualfon helps businesses drive cost savings and deliver exceptional CX. Their strategic outsourcing locations include the United States, the Philippines, Guyana, and Mexico, where approximately 13,000 employees serve international brands from diverse industries.
Qualfon also delivers desk and top technical support services to help companies maintain smooth operations and resolve tech issues promptly. Their team of experts is available around the clock to ensure uninterrupted technical support for businesses of all sizes.
Main Features:
Qualfon's tech support services are available 24/7, ensuring that businesses can receive prompt assistance at any time of day or night. This reduces downtime and helps organizations maintain smooth operations
Has a team of highly skilled IT professionals spread across multiple locations worldwide, providing businesses with access to a global talent pool.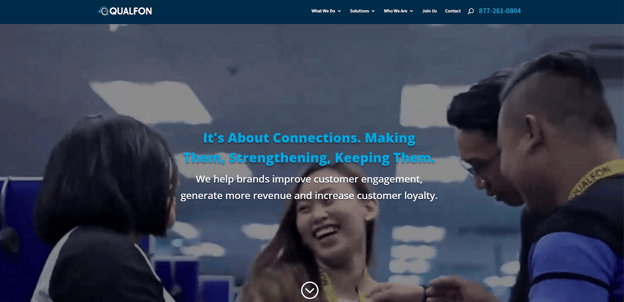 10. Gain the Best Technical Support Experience with Tech2Globe
Tech2Globe is an international provider of IT support services, founded in 2014, that works with businesses across various industries such as e-commerce, healthcare, logistics, finance, and more. With multiple locations across the United States and India, Tech2Globe provides a range of IT support services such as help desk support, network and security management, cloud solutions, software development, website design, and data entry services.
Main Features:
Offers tailored tech support solutions that are customized to meet the unique needs of each client.
Has experience working with businesses of different sizes, cultures, and languages, making them versatile and reliable partner for IT support services.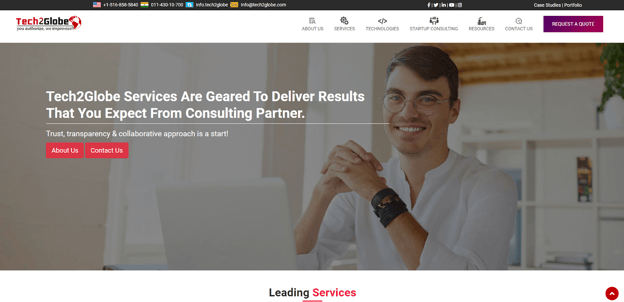 Final Thought to Consider
In the end, most remote tech support companies provide comparable packages and pricing. Although one-time fixes can save money, subscribing to an ongoing service plan of an IT support company can offer greater value, especially for users who have frequent queries and small tech issues. It is important to carefully examine the terms and conditions, as well as ask relevant questions before committing to a long-term support option. As the support option you choose can significantly impact the stability and effectiveness of your technology, it's crucial to invest wisely.
Top technical support companies in the USA can offer businesses many benefits, including improved service quality, increased availability, and reduced costs. However, it's crucial to carefully evaluate potential providers based on their expertise, level of support, communication channels, cost, and scalability. This is a smart approach for a successful partnership.