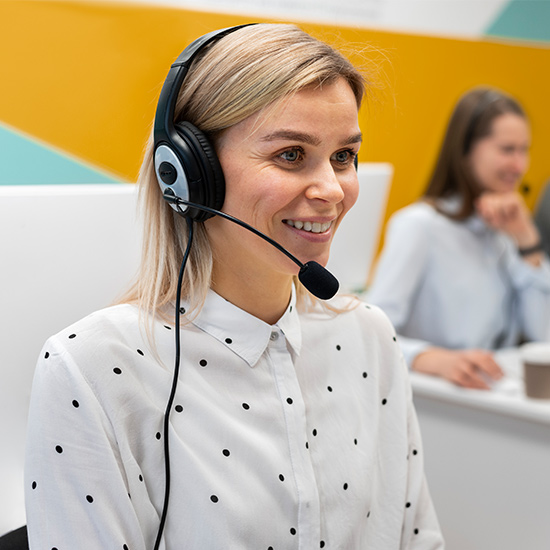 Connect with Customers Where They Are
We offer fully integrated business process outsourcing that drives brand loyalty, including call center, answering service, IT, chat, technical, and email support.
Create Experience Beyond Expectation
We tailor a team of the right people with the right skills across all customer channels to increase brand loyalty and competitive advantage.
Human in the Loop
Integrated and Empowered CX
Our approach to CX allows dynamic integration regardless of your platforms, telephony, systems of record, and contact touchpoints. We consume and drive personalized interactions at every step along with your customer or consumer journey. Leveraging the best tech stack, we put the right people in the loop at exactly the right time to transform your CX workflow.

OUR BENEFITS
What sets us apart?
Transformative
Our focus is on your key performance indicators and also on clearly defined service level agreements. We focus on transforming experience at the personalized human level by combining the right technology through integration and bringing your business workflow to life with caring, passionate people focused on the why in each interaction.
Strategic
Our technology supports continuous analytics, progress monitoring, and strategic development of innovative solutions to drive competitive advantage for interaction management. We use your consumer behavior data to create better, faster, and rewarding experiences in every single interaction — across all channels.
Purpose Driven
Our human touch and culture focus integrated with top technology delivers heightened customer satisfaction. We empower our custom teams to work alongside automation, adding a human element and empathy to customer communications and problem resolution.
Future Focused
Our ability to flex, expand, and adapt allows us to drive results in fast-paced markets and support high growth goals. We embrace the use of full integration suites processes and serve up better, more rewarding experiences for customers and employees.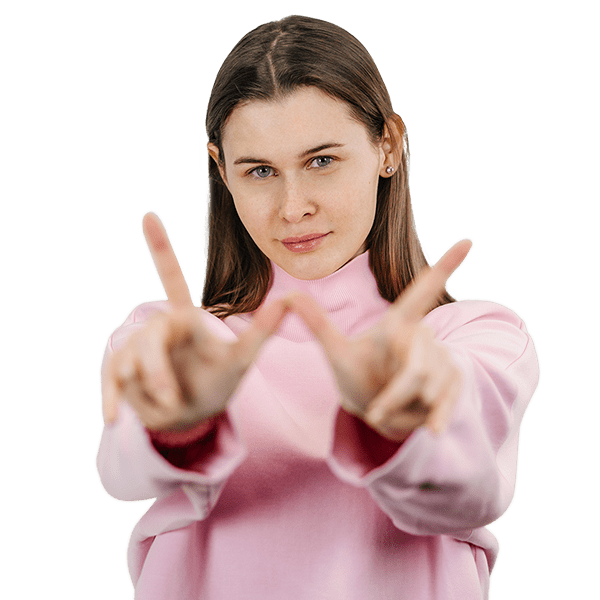 OUR PROVEN APPROACH
Our Partners
OUR PROVEN APPROACH
Modern Technology Integrations
Your onboarding manager helps you build your team using a proven project management approach (roadmap, recruit, process, train, and launch).
Your recruiting team combines sourcing and headhunting to interview, test, and curate your custom-tailored team.
Your training team facilitates and builds training documentation with you and creates a certification plan with your team.
Your custom team is 100% dedicated to you. They are assigned a manager, and we continually monitor KPIs and goals.
You are assigned a customer support manager to partner with you on continuous improvement and help you project manage your work and team.
You can accelerate growth, level up production, increase efficiency, and improve your bottom line.
OUR GREATEST ASSETS ARE
Our Clients


HAPPY CUSTOMERS
Clients Reviews
The in-house team is happy with the quality of work and the customer service they've received. Helpware has met all needs, while their readiness to take on all kinds of projects and execute everything on time made them a reliable partner.
Helpware's collaboration with the client helps them in saving a lot of time. The team has been accommodating to feedback and have improved communications across all teams. The team leaders meet with the client weekly. Furthermore, Mexico and Kiev meet ups are daily.
Since partnering with Helpware, the client has seen a boost in overall productivity and efficiency. The team learns and works fast without compromising quality. Their communicative and proactive attitude continues to pave the way for a long-term partnership.
HELPWARE HIGHLIGHTS
News And Press Releases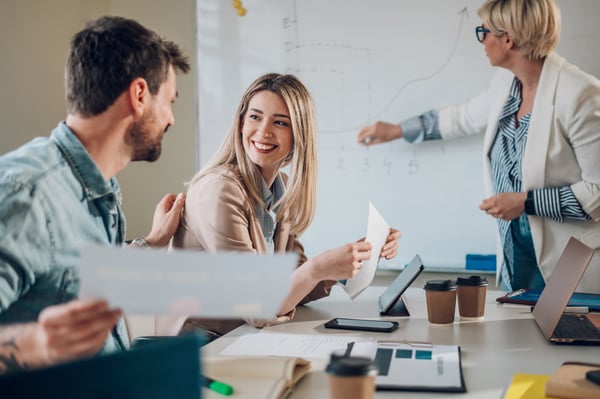 As the BPO sector is experiencing constant change, leaders have to adapt new management methodologies to keep up with new market demands and increased client expectations. Sticking to traditional management styles is like sailing a ship with an old ...
Digital Customer Experience Trends 2022
With 2021 behind us, it's safe to say that most of us have been able to return to normalcy, or perhaps a new normal that the pandemic has forced us to accept. However, one aspect that remains a primary concern for several organizations is how to sustain themselves despite the numerous online competitions.
It wasn't long after that organizations began prioritizing the digital customer experience in the hopes of getting an edge over competitors. And many actually did.
Since change is the only constant left in the business industry, it's become increasingly crucial for businesses to keep up with the ever-evolving digital customer experience strategy in order to remain relevant. So what better time would there be to adapt to these changes than now to plan your digital CX strategy?
We've saved you the trouble by narrowing down some of the hottest digital customer experience trends you're bound to see in 2022.
Let's dive right in!
Omnichannel: The Ultimate Digital Customer Experience
Omnichannel digital customer experience isn't a new concept. In fact, it's been around for quite a while now. But unfortunately, many brands and businesses fail to integrate it effectively into their digital customer experience strategy.
Much of providing customers with an excellent digital experience entails tailoring the digital customer experience journey in such a way that they're able to interact with your brand, from one platform to another, without any lags or hiccups.
While traditional marketing strategies did much the same, the omnichannel strategy allows them to engage with several channels at the same time seamlessly.
This may seem easier said than done, but don't fret. We've broken down the omnichannel digital customer experience into two main categories to help you understand the term better:
Engagement
Contrary to popular belief, running a business requires a lot of trial and error. Surveying your customers, trying out different channels, and identifying and understanding key themes are integral parts of providing better omnichannel communication.
Don't shy away from asking yourself and your internal team some difficult and critical questions. Where are you lacking? What are your business's pain points? Where are you falling short?
The more aware you are of the inside workings of your business, the better informed you'll be when investing in the right digital tools.
Data Analytics and Proactive Strategies
This may seem a little obvious, but you'd be surprised just how many brands and names tend to leave out this part. It's key to understand that engagement differs across platforms. It's not practical to assume that the same approach would work for each channel.
Rather, tailoring your strategy, finding keywords, analyzing data, and using the insights to your leverage can often help you identify pain points that have been under your nose all this time.
For digital experiences to leave a lasting impact on your audience, you need to be more proactive in strategizing and planning.
What does that mean?
This means being prepared for anything the business world has to throw at you ahead of time. Being proactive means thinking fast and knowing what your customer wants before even they know what they're on the hunt for.
How do you do this, you may ask?
By using data analytics! They're a great way to fine-tune your marketing approach and identify key factors such as your overall response, customer satisfaction, revenue generation, and more Tracking your progress and being able to learn from the results along the way ultimately leads to your business being in the fore-front.
Happy Employees, Happy Customers
You may not realize it just yet, but the employee experience plays a vital role in the digital customer experience journey in the long run.
Much of the employee experience involves ensuring that your employees' interactions with your brand are fruitful. Whether it's the work environment, the culture, the tools they use, and their interactions with the HR.
Cultivating a productive and secure work environment where your employees feel validated and taken care of directly affects the experience your customers have.
Especially during these trying times, when most of us have adapted to the hybrid work model, making sure that your employees feel appreciated guarantees that they'll choose to stick around for longer.
Hyper-Personalization, Worth a Shot?
If you're genuinely looking to bring about some serious digital transformation, it's time you hyper-personalize the digital customer experience. And while you're at it, you may want to eliminate the one-size-fits-all approach altogether.
There are several ways you can do this. For example, you can greet customers by their first names in your email marketing, use real-time data to track their shopping history and behavior, and possibly even use previous interactions to better understand what they need. You can also offer them personalized rewards and coupon codes every now and then.
And that's not all. With so many intuitive tools out there, you can personalize your entire website so that it's tailored to each and every customer.
The world is your oyster, and there's no reason why you should shy away from claiming it as your own!
Data Security and Privacy
This shouldn't come as a surprise, especially since the shift towards digitalization harbors a significant risk of security breaches. And believe us when we tell you, nothing makes a customer lose trust in a brand faster than knowing that their sensitive information has been leaked out into the world for everyone to know.
And it's no secret that customers are even more vigilant than they were back in the day. They're more aware of how their data is being used and usually don't provide it unless they deem it necessary.
One mantra you can use to fool-proof your audience's digital experience is not to ask if it's not crucial.
Moreover, every digital customer experience management needs to step up its cybersecurity game. For example, suppose you're serious about keeping up your brand image and winning the trust of both potential and returning customers. In that case, you need to ensure you do everything to protect the data your customers provide you.

A few practices we've found especially helpful are:
Mention your privacy policy honestly and mention the purpose of collecting data
Ask for the customer's consent before using their data for marketing purposes
Only collaborate with business tool providers that adhere to security standards and laws
If your business is ever involved in a data breach, make sure to inform your customers and let them know what your team is doing to mend their ways.
Combining Automation with Humanity
This year, if you add anything to your digital customer experience strategy, artificial intelligence (AI) should be combined into your marketing approach.
You've probably heard of a chatbot or even come encountered one, for that matter. They're a great way to minimize cost and time by having an automated bot respond to queries and problems in real-time.
However, there's a drawback to them as well. Often, a chatbot cannot comprehend the specific questions it's asked, which is likely to add to one's frustration.
So, although chatbots can't wholly override humans and the power of human connection, you can make some tweaks and harmonize the two. And in 2022, we suspect that using more advanced AI and sophisticated technology as well as introducing virtual assistants into your team is likely to hit the mark.
Mobile-Friendly Website Designs
Over the past few years, several studies have shown that majority of the digital experience customers have is actually on their mobile devices.
And it's not difficult to imagine why. Almost everyone has a mobile glued to their palms. This may sound a little harsh, but if customers aren't viewing your website from their phones, they probably won't visit it on their laptops or computers either.
So, to cater to a broader audience, it's essential to align your website layout and make sure that all your marketing techniques operate just as well on mobile devices.
Glitchy mobile websites, poor interfaces, and designs are the recipe for failure, time to shift gears!
The Art of Communication
Okay, so this may not necessarily be a digital customer experience trend, but this tip just had to make it on this list.
When running a business, it's easy to forget some of the basics. Such as effective communication. Now, don't get us wrong. Of course, content, good services, products, and everything else are just as important, but if you're lacking in the communication aspect, your business will never be able to get to where you've dreamed of seeing it at.
Good communication is the heart of customer experience. After all, that's how you'll understand what it is they require. You definitely don't want an exasperated customer at the end of the line.
How many times have you picked up the phone and talked to a monotonous voice that could easily pass off as a robot? Unfortunately, our guess is way too many to count.
Instead of reverting back to the same old robot-like script, train your customer service representatives into developing soft skills such as being open, helpful, creative, and attentive. This is bound to boost your customer experience.
Empathy: The Ultimate Customer Insight
On a similar note, if you want to bring about digital transformation to your brand, it's important for you to start looking at things from the customer's point of view.
What this means is simple. To provide the ultimate digital customer experience, you need to understand your customers' needs, requirements, and how they feel. This tip is handy for the post-covid landscape, where the slightest bit of empathy can go a long way in ensuring your customers feel cared for and acknowledged.
Unleashing the Power of AR and VR
Today, several digital experiences are made using the latest, innovative technology of augmented reality and virtual reality.
Augmented reality helps make your mobile applications and websites stand out from the rest, while virtual reality creates a simulation similar to that of the 'real world.'
The possibilities that AR and VR entail are endless. Whether you run a home furniture brand or a construction one, being able to visualize the end result and having the freedom to play around with different products until you find the right one for you creates a memorable digital customer experience.
Instant Gratification
A downside to technology is that people don't like to wait now. It's all about getting things done quickly, without wasting any time on the nitty-gritty stuff.
However, you can use that to your advantage and provide customers with that seamless digital customer experience they have been on the hunt for. This can range from speeding up the checkout process to retaining customer history so that forms are automatically filled.
Gone are the days when people would sit hours on your webpage, refreshing it and hoping it works just this time or waiting in long, never-ending queues. Instead, today's world is fast-paced, and to keep up, you need to be too.
Thriving – Not Just Surviving
Two years from now, our lives flipped a complete 180. But then, no one had the slightest clue what to expect or how to navigate a pandemic-stricken world.
However, as with all things in life, we eventually learned how to adapt. But that doesn't mean you get comfortable. There's no saying how far the pendulum will swing, and with everything that's happened, it's wise to remain alert and on top of all the rapidly changing marketing trends.
If there's anything we've learned from these past years, it's to be open to change and adapt to circumstances. Welcoming change with open arms doesn't just mean integrating new marketing methods into your strategy, but it also means letting go of outdated methods that are no longer fruitful.
However, no matter how many tools we develop or the hottest bandwagons we jump on, the sole purpose remains the same: putting your customer's needs first.
Want to Deliver an Excellent Digital Customer Experience?
With businesses increasingly focusing on their customer experience, you ought to rely on only the very best.
Fortunately, Helpware provides fully integrated business solutions that help you create experiences beyond your audience's expectations. Whether it's driving brand loyalty, setting up chat support, or including a call center into your marketing approach, we go above and beyond to provide you the ultimate satisfaction.
read more