In a saturated retail market full of good products with competitive prices, the only way sellers stand out is by providing an excellent customer experience. Buyers who receive good customer service tend to become loyal advocates of the brand, while those who don't are more likely to take their business elsewhere.
In a 2020 CX Trends Report, CRM company, Zendesk, found that 52% of consumers prefer buying from brands they have already bought from before. Conversely, 50% say they would jump ship to a competitor after a single negative experience.
The implications of a bad customer experience are clear, so businesses should ensure providing the best service to their buyers is a top priority.
However, the importance of exceptional customer experience is not bound to retail. Today's consumers expect stellar service from every sector. Needless to say, the healthcare industry—a market that literally exists to treat people—should look to the retail customer experience to elevate its own.
Why Personalization Matters
Zendesk reports that more and more consumers are becoming comfortable with companies collecting private information about them. This can very well work to your advantage, as you can use this data to better serve your customers. Data analytics pose an invaluable asset to understanding what your patients really want, so you can provide them with more personalized customer service.
Patients appreciate well-timed offers that are tailored to their interests. Instead of treating mass emails as spam, they are more likely to engage and invest in the offers. This, in turn, increases customer retention while driving brand loyalty.
Here are four ways the healthcare industry can use personalization to improve the patient experience.
1) Scheduling and Managing Appointments
In light of the pandemic (and the convenience of the digital era), health-conscious consumers prefer to shop at uncrowded stores. This has ushered in the need for appointment shopping, where shoppers book their preferred dates and times online to visit the store in person. This system has actually been a trend in high-end retailers for years now; the pandemic only made it mainstream.
Similarly, today's healthcare industry is experiencing a massive shift in how patients book their in-person appointments. Rather than making appointments over the phone, younger generations and high-income households prefer scheduling theirs online.
According to a survey conducted by digital marketing agency Zion & Zion, 40% of respondents who use online appointment settings are between the ages of 18 and 29. They also found out that 60% of patients who earn over $200,000 opt for this booking method as well.
These figures indicate a need for players in the healthcare industry to start offering online appointment booking—if they want to retain their customer base and appeal to younger and/or wealthier clientele, that is. Granted, implementing this convenient system goes far beyond keeping patients happy.
When you introduce online scheduling to your workflow, your staff no longer needs to spend hours of their workday answering phone calls—which typically take over eight minutes per patient. They can use this time to improve the patient experience in-office instead. Focusing your staff's time on what truly matters will elevate both your office atmosphere and your bottom line.
With online scheduling, you can also see improvements in patient attendance. A study has revealed that no-show rates using web-based scheduling services were only 6.9%, significantly lower than the 17%-31% no-show rate of patients who scheduled through traditional means, like live service. This is likely because online appointments give patients complete transparency of their provider's availability, so they can easily pick the time and date that is most convenient for them. This, in turn, increases the chances of them showing up to their appointments.
To truly leverage the power of online scheduling, you need to provide a system that is accessible to both new and existing patients. You must ensure that there is no unnecessary friction (i.e., having to create an account before booking), especially for new patients. It's also helpful to integrate the right guiding questions into the scheduling process for a user-friendly experience. Finally, design a system that shows the patient real-time information the moment they decide to book an appointment. Confirm their appointment on the spot!
2) Easy Access to Personal Records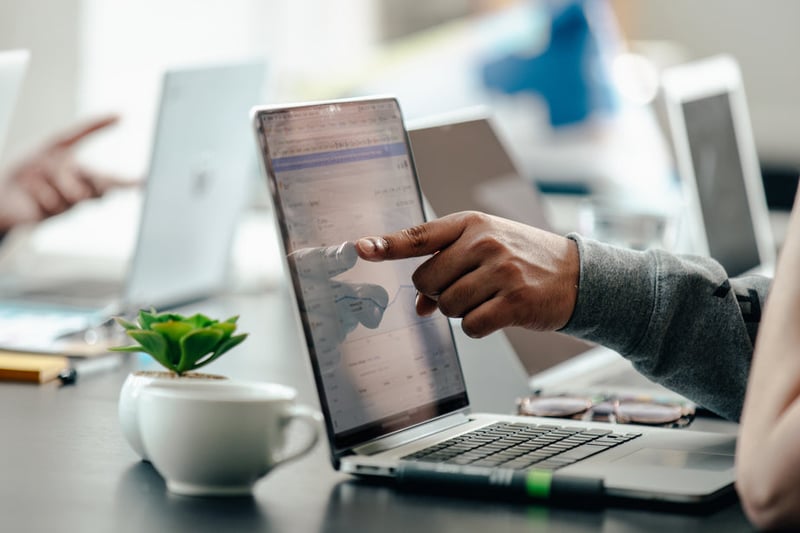 An excellent customer experience in the healthcare industry is defined by many factors, one of the most important ones being ease of access to medical records. When patients can readily view their information, they are more empowered to take charge of their health and well-being.
Through their electronic health records (EHR), they can immediately see their treatment plans to follow them properly. It will also only take them a few clicks to monitor their chronic conditions or share relevant documents with family and doctors. With such empowerment, patients are more likely to remain loyal to their providers—to you.
However, to make the most out of this system, healthcare providers need to check off some boxes. First and foremost, a patient's access to their documents should not be complicated or time-consuming in any way. They should be able to easily see their documents in their patient portals, as well as have access to an external electronic records request system (for patients switching doctors).
It is also imperative that the process is clearly defined at each stage and user-friendly. For instance, when a patient requests a document, the system should offer a way to track the document and the expected date of arrival. When designing the portal, consider adding other online features—like appointment booking and secure messaging—to encourage patients to use it more often.
In the retail industry, record management has been one of the most effective ways for companies to improve their customer service. By keeping inventory records visible, consumers no longer have to wait for hours on the phone just to know if an item is in-stock in a particular store or not. They can simply hop on the website and see for themselves.
Retailers can also promptly cater to customer needs when they have an organized purchase record. When a customer wants to return an item or switch it out for a new one, sales staff don't need to dig through tons of paperwork to verify the sale. This keeps customers happy, knowing that the response time is lightning fast.
3) Video Consultations
Videos have slowly taken over the world of retail in ways we never could have imagined. For one, live stream shopping is a trend slowly becoming the new standard. Instead of merely acting as a means to showcase products, live stream videos now allow viewers to buy the items directly and in real-time. This has generated massive sales for retailers, as the consideration period is reduced and customer engagement is boosted.
Retailers also leverage videos to market their business without the added cost of hiring professional videographers. They can simply use their smartphones to create personal messages for their customers (especially if they want to send them new recommended products), record how-to and educational videos, or broadcast live streams on social media so their followers can ask questions or watch them pack orders.
Similarly, videos turned into a massive market in the healthcare industry. The pandemic wildly increased the demand for telemedicine, increasing its market size from USD41.63 billion in 2019 to USD79.79 billion in 2020.
As clinic doors start opening back up and we begin to resume our normal lives, one would assume the prevalence of telehealth would fade. However, this has not been the case so far. In fact, in a survey of 1000 adults, 43% of them said they would continue to use telemedicine services even after the pandemic, while 34% said they prefer to attend video consultations than in-person appointments.
These figures illuminate the role remote operations in the healthcare industry played throughout the early 2020s. They proved hugely convenient and cost-efficient for patients. Needless to say, this type of service is here to stay as a complement to traditional health care, making hybrid telehealthcare the future of the healthcare industry.
However, the continuing popularity of telehealth should not be your only reason to add video consultations as a permanent service moving forward. Yes, giving patients the option to see their doctors and specialists online will boost your bottom line, but you should also look at it as a way to improve your patient experience.
Patients using telehealth services find their providers more attentive online than in-person, increasing their trust in them. Remote care operations also provide underserved populations a way to receive much-needed care and give patients access to self-help resources, as well as a wider array of specialists.
However, to make telemedicine a sustainable and accessible solution, providers and government authorities need to look into the improvement of the internet, technology, data privacy, and training of staff.
4) Paying Bills and Fees
Online payments, in general, offer users a speedy and convenient checkout process that makes them want to buy more, effectively increasing conversion rates for businesses. They can also protect the business from fraud with security measures, all while providing real-time data of purchases.
In the healthcare industry, online payments offer the same kind of benefits to both the patients and the providers.
When you offer a digital payment option, bill management becomes one less task for your staff to allocate precious time and energy to. They don't have to make collection calls, attend to a line of people paying in-clinic, and print and mail out bill statements. This cuts down on operational costs and improves patient care simultaneously.
Setting up remote payments is better for your bottom line, as well. According to a survey by US Bank, 44% of US healthcare consumers pay bills faster when they receive billing notifications electronically. They are also less likely to forget or put off paying when they are offered more ways to pay off their dues.
Another less obvious benefit of digital payment solutions in the healthcare industry is the ease of record keeping. With all payment transactions stored in a central location, you won't have to manually track invoices in a stockpile of papers. This improves the efficiency of the clinic significantly.
On top of all these advantages, having contactless and remote payment options keep your patients satisfied. They don't have to remind themselves to pay their bills and can just set up automatic recurring payments instead. They can focus more on their health and less on the hassle of paying bills.
As you may have already known, digital payment solutions are nothing new. Many sectors of the economy have been reaping the rewards of this technology long before the pandemic hit.
The retail industry, in particular, has considered it a standard for years now. However, the COVID-19 outbreak still had a massive impact on the sector as it introduced new trends in mobile payments. These include contactless payments, mobile wallets, and even mobile point-of-sale systems, among others. The eCommerce industry is set to expand in the coming years, and its growth only means a bigger need for online payments.
Personalize Customer Experience with Helpware
Increasing emphasis on the whole customer experience has been a major motivator in a wide range of businesses, and the healthcare industry is no exception. By studying how the retail sector conducts its customer experiences, healthcare providers can take their patient experiences to the next level.
Among the things providers need to integrate into their workflows are online appointments, accessible personal records, video consultations, and digital bill payments. When patients receive these services, they are happier with their care.
If you believe the people who trust you with their lives deserve the best possible patient experience, reach out to Helpware. Better care outside of the office and more money in your pocket, our expert team eagerly awaits you!