Change is inherently unsettling, and in a world where work is no longer bound or defined by proximity or time zone, many myths circling the business process outsourcing industry stubbornly persist.
Many companies continue to buy into the old misconceptions about outsourcing. From skewed beliefs that it is only for big corporations to the lack of attention on security and privacy or the thoughts that outsourcing is only for call centers. In turn, impeding innovation, limiting growth potential, and risking their competitive advantage in the process.
Business process outsourcing (BPO) is a fast-growing industry worth $54.8 billion, and for good reason. Many company executives and decision-makers leverage this strategy to gain access to experienced professionals with specialized skill sets, make operations more efficient and cost-effective, and drive business growth.
Research shows that business leaders are looking to spend more time and effort on change management during the outsourcing process. Keeping employees honestly informed from the beginning helps smooth the transition, saving the company time, resources, and reputation, especially as employees may still have a negative perception of outsourcing.
In this article, we will shed some light on what business process outsourcing is and isn't by debunking some of the myths about the industry. This way, you gain a better understanding of the pros and cons of outsourcing and gauge how it can help you reach your business goals.
Myth #1: Communication is Difficult in Business Process Outsourcing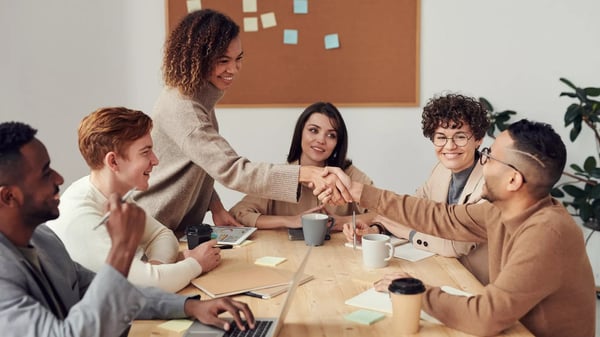 Companies partner with third-party service providers to perform specific business functions–that's how outsourcing works. For instance, a company might want to outsource accountants for their payroll or receivables. When companies outsource accountants, these individuals would only work on the specific outsourced tasks – no more and no less. It's up to you what resources you give them access to, meaning you define and determine the level of control.
Handing over control of certain aspects of your operations to a third party might naturally induce a bit of angst. But, if you partner with BPO entities that uphold the same standards that you do – qualified, experienced, and trustworthy (much like hiring a new employee) your business you will be in control and your business safe.
In this new era of business, it's becoming a feature for teams to be working abroad or halfway across the globe. But no matter, if you've picked an outsourcing partner committed to a culture of transparency and accountability and who communicates regularly, you will have the same oversight as if they were in the next office.
Myth #2: Security and Privacy are Not a Priority
There is, of course, an increased risk of data mismanagement when it comes to outsourcing. Companies are, after all, providing a third party with access to some of their most sensitive corporate data assets.
Data security in business process outsourcing is a two-way street. Your responsibility in this regard begins before selecting a partner company, ensuring your own house is in order first. This requires you to perform a risk assessment followed by implementing effective risk management strategies. It further means a thorough evaluation of a potential partner's existing security protocols. It's recommended to source an outsourcing company with at least three layers of security and established procedures for handling sensitive information.
If you proceed with a partnership, it's crucial that you continually monitor how your BPO partner handles your data. In most cases, BPO companies regularly update their approach to data security to keep up with industry best practices. With new intelligent technologies, compliance directives, data protection/data breach detection, and corporate data governance, outsourcing partners are able to monitor, alert, report, and mitigate security breaches effectively. However, it is crucial that you also conduct routine audits of these checks. This way, you can gauge whether they meet your company's security needs and expectations.
It's also wrong to assume that business processing outsourcing companies will misuse confidential data entrusted to them. This is because an outsourcing company's success is primarily dependent on its reputation, and no other business will trust them if they have a faltering history, have broken previous clients' trust, and are associated with privacy breaches. In fact, BPOs employ data security systems that are oftentimes more rigorous than those deployed in-house.
Myth #3: The Cultural Gap is Difficult to Overcome
Business process outsourcing is growing and becoming increasingly popular for organizations around the world, regardless of size. More and more brands are embracing BPO to cut costs, raise productivity and efficiency, and make more money by drawing from the rich global diversity pool. Cultural differences, however, can prove problematic, and bridging the culture gap in distributed teams is crucial because it can either make or break partnerships.
When working with remote teams, a few simple steps can help to smooth the process and lay a solid foundation for a successful outsourcing partnership. Cultural diversity manifests in different forms: language, behavioral traits, values, and even the meanings attached to specific words and phrases.
Don't tip-toe around the issue, take the bull by the horns: your team is now more diverse than ever before. To ensure cultural compatibility, you first need to learn what it entails. Encourage candid conversations so colleagues can get acquainted, acknowledge, and celebrate their cultural differences; facilitate cross-cultural experiences; discussions that highlight cultural commonalities. These are important first steps.
Even if totally fluent in English, your new colleagues might miss subtle meanings or misinterpret something because of your specific word choice. Indians, for example, are known to be sensitive, which means that constructive criticism can be harder to take, depending on how it's delivered. So, rather than saying, "I really don't like how you've handled this task. Consider this approach instead?" You can say: "Rama, that's not bad, but here's how I think you can do this task better." Particularly in the early days, framing your sentences the right way can turn a good relationship into a great one.
New employees need time to acclimatize to their workplaces before they can fully collaborate with their co-workers and become productive team members. Similarly, it makes sense for companies to apply that same logic when outsourcing.
At Helpware, we place company culture at the forefront of our business. Meaning that companies get access to offshore or local teams that can quickly adapt and align themselves to your business's core values and corporate culture. Plus, with years of experience in the outsourcing industry, Helpware is already an expert at managing cultural differences and celebrating diversity.
Myth #4: BPO is All Call Center Work
Over the years, business process outsourcing has been synonymous with call centers. While it's true that BPO companies can offer expert help with call center and customer services, it is certainly not the only task that they can handle for you.
Some of the most common types of outsourcing today include:
Process-specific outsourcing. A type of outsourcing wherein you look for specialists for specific internal operations. Examples include building a dedicated research team that can help in product development or partnering with an HR agency to look after your staffing needs.
Operational outsourcing. Similar to process-specific outsourcing, this also refers to engaging companies with particular specializations. The difference is that it's often closely tied to processes that affect business operations on a regular basis. Partnering with a logistics or courier company to handle your deliveries, is a great example of operational outsourcing.
Professional outsourcing. Under this category, companies outsource processes that may require extensive training or a professional license to perform. It could include partnering with a law firm to handle your legal requirements or an accounting firm to handle your taxes.
IT outsourcing. Refers to subcontracting a third-party provider for IT requirements. These include, but are not limited to, infrastructure setup and maintenance as well as tech support. In some cases, this may also involve the development of systems to reinforce operations.
Project outsourcing. For short-term goals and needs. Entrusting a particular project or part of a project to a provider. Some examples include hiring a web developer to create a website or getting assistance from a project management team for a one-time event.
Myth #5: Outsourcing is Only For Big Corporations
The whole concept of outsourcing is often associated, and wrongly so, with big businesses only. After all, it can be assumed that a company's operations must be large enough for them to be needing help from outsourcing providers. Plus, the cost of partnering with a BPO firm must be high so a business should have a large revenue before considering it, right?
The truth is, small businesses can benefit from business process outsourcing services just as much as large enterprises. Of course, it won't be on the same scale. However, there's a range of critical processes that SMBs can consider entrusting to a BPO provider. A survey by Clutch has found that some of the tasks that small businesses commonly outsource include accounting (37%), IT services (37%), and digital marketing (34%).
There are a number of positive spin-offs by outsourcing these processes, including:
Simplified cost control. Handling tasks that you are not trained to do can not only take a toll on your employees but also impact your time and money. Outsourcing lets you delegate processes to professionals who can do the job efficiently. As such, you can control costs associated with certain tasks. It can even help you convert fixed costs into variable costs and allow you to redirect resources where it's needed.
Improved efficiency of critical processes. Having in-house departments for accounting, legal management, IT management, and the like can be costly for small businesses. Plus, with limited human resources, training new recruits can impact the efficiency and accuracy of these critical processes. By outsourcing, you eliminate these risks.
Better focus on your core operations. As important as administrative and back-office processes to every business, these can hinder companies with limited resources from focusing on their core operations. Outsourcing non-core activities allow you to lighten your team's workload and enable them to be more focused on priorities, such as revenue-generating tasks, for example.
Partner With a BPO Company to Optimize Operations
An ever-increasing number of businesses across the globe, irrespective of size, are warming up to the idea of working with global teams and using the offshore development model to cut costs, raise productivity and performance, and boost profits. They're leveraging global diversity and bringing together people from different cultures and backgrounds, with unique perspectives on just about everything.
As more and more people are looking outside their own borders for opportunities, business process outsourcing is often seen as a foreign concept, but it can be an effective way to manage critical business functions while maintaining control and a positive culture. A modern, experienced, BPO company with robust security measures can help you dispel these misconceptions with smart workflows, transparent processes, and advanced technology customized for your specific needs.
COVID-19 has been one of the most disruptive events of our times and we're just now starting to see its impact across economies, supply chains, and the outsourcing space. From globalization to technology, more changes are on the horizon for this ever-changing BPO landscape. If you're unsure where to start, be sure to check out Helpware – a BPO partner that places a premium on cultural compatibility determined to change perceptions of what outsourcing is and can be by building amazing cultures in each of our locations across the globe. By simply treating our employees better, Helpware can you with all aspects of your business process outsourcing requirements so you are adequately prepared for what comes next.