Helpware expertise
What We Do
DATA LABELING SERVICE
Image and Video Annotation
1

Computer Vision

2

NLP

3

Healthcare

4

E-commerce

5

Finance
Computer Vision: We specialize in object detection and image classification, helping you train your computer vision models to identify and categorize images accurately. Our team is meticulous and detail-oriented, ensuring that every object is correctly labeled, leading to better model accuracy and performance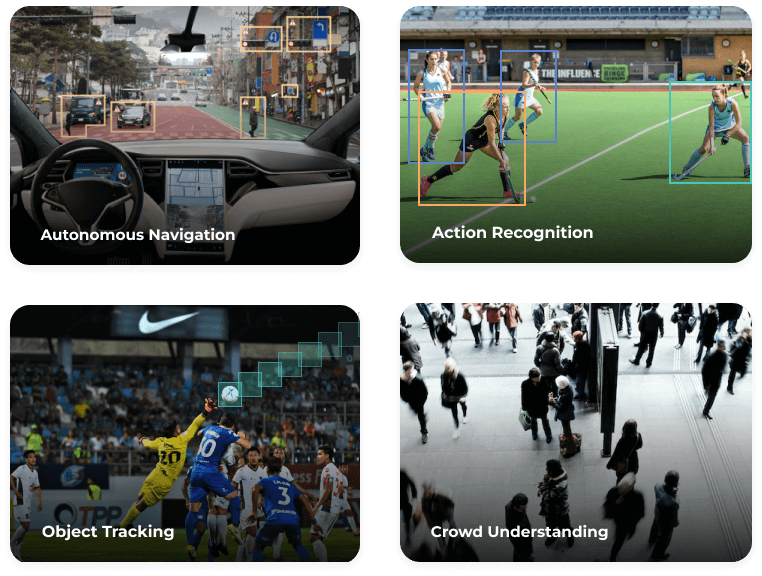 Our human annotators are experts in labeling text data for sentiment analysis and named entity recognition. We ensure that each label is accurate and consistent to produce high-quality training data for your NLP models.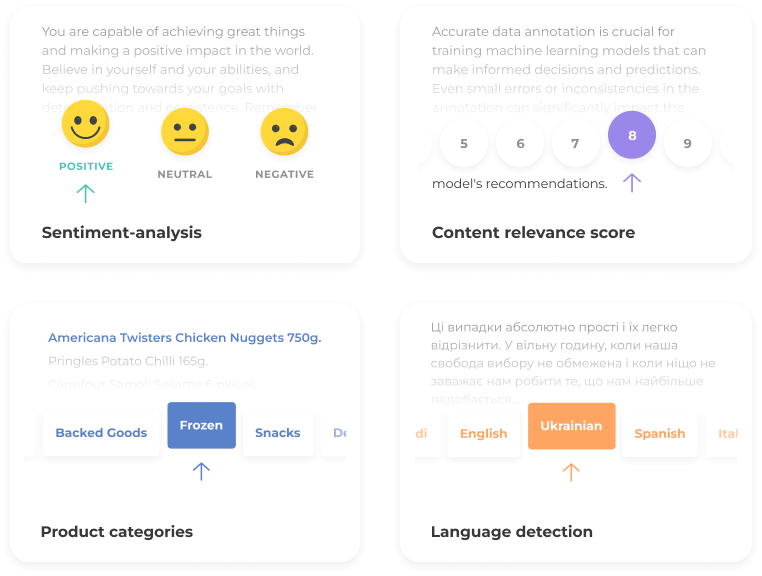 Our medical image analysis and electronic health records annotation services help healthcare organizations provide better patient care. Our annotators work with precision to label medical images and health records data, enabling automated analysis and aiding in faster, more accurate diagnoses.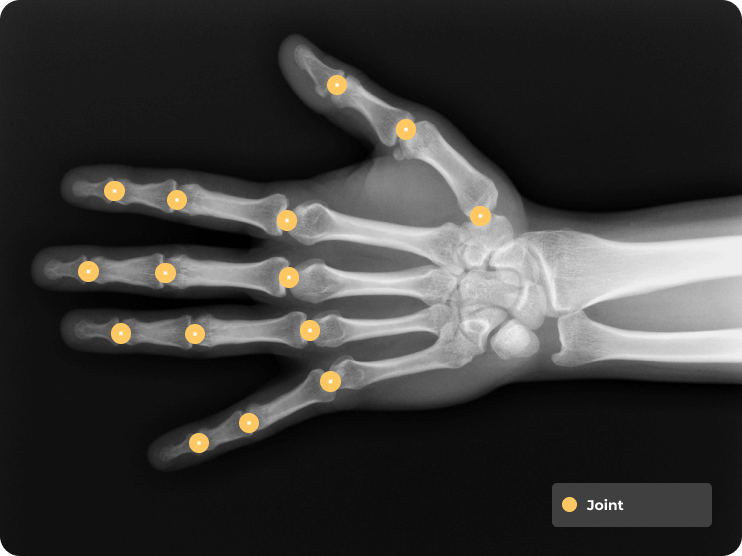 Our data labeling services, including product classification and image tagging services, can help boost your e-commerce business by improving your product recommendation systems and enabling visual search features. We ensure that every product is correctly labeled, leading to a better customer experience and higher conversion rates.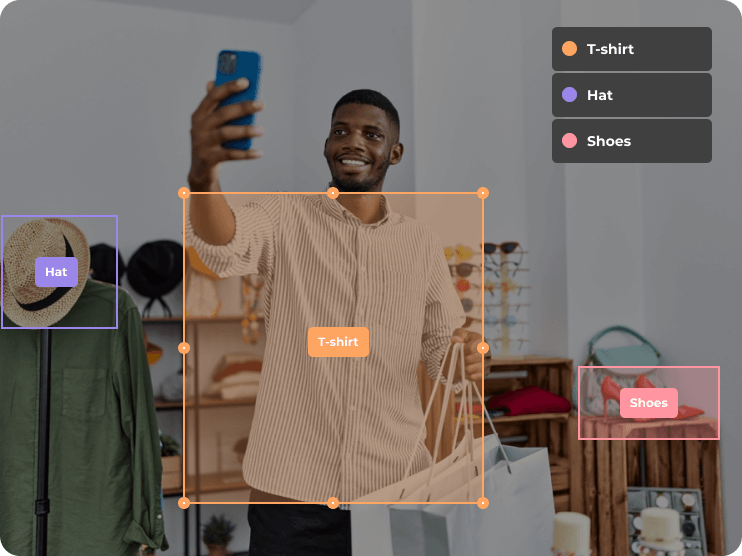 Our document processing and fraud detection annotation services help financial institutions automate data extraction and processing while ensuring accurate and reliable results. Our team works with speed and efficiency to deliver fast and precise labeling.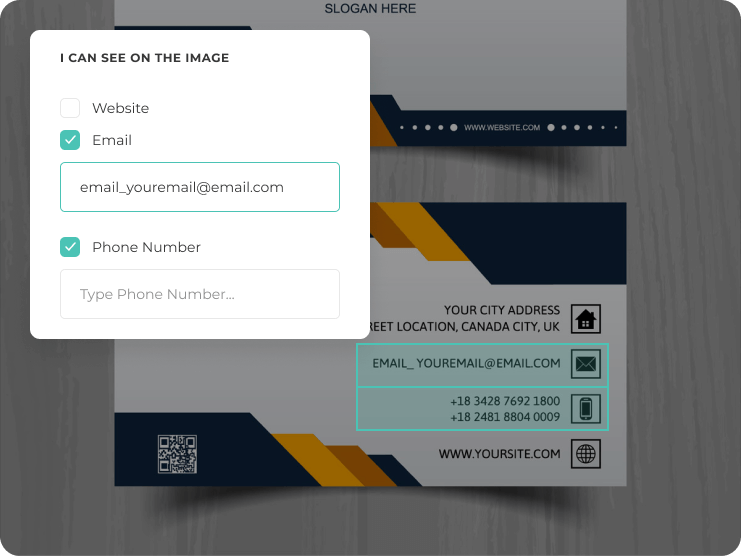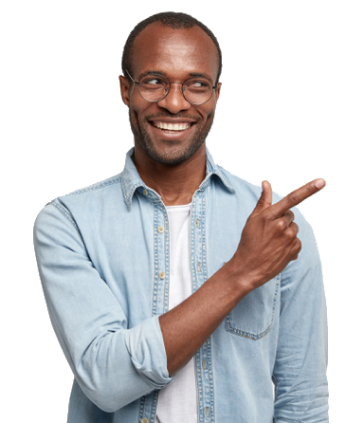 Can't find specifications for your project?
No matter what industry you're in, we can help you harness the power of supervised annotation. Our team is committed to delivering high-quality training data that will enhance your machine learning models and drive business success. Contact us today to learn more about our services and how we can help your organization thrive.
let's talk!
get an offer
Machine Learning
Trained by Humans
Get an offer
Let us know the size of the dataset, requirements and deadlines, and we still send you the offer right away!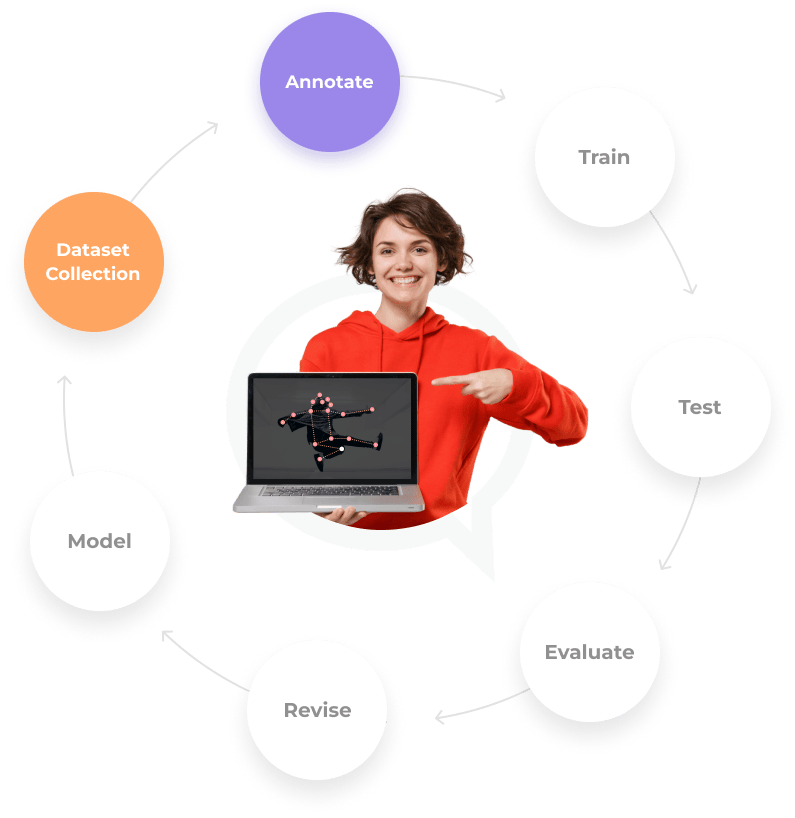 Helpware expertise
Solutions
We handle team size to deliver projects on time, no matter the volume or complexity of the dataset.
Project-wise
$15.00 per hour of labor work
Annotation is on our platform or the client's tool
Deadline up on your request
No signup fee or hidden costs
Full-time Team
Hourly rate depending on the preferred location
Annotation is on our platform or the client's tool
Hiring and onboarding training on our side
90 days pilot
1 year as a minimum commitment
Super fast scale, from 10 to 50 people within 1-2 weeks
annotation platform
Taskware
In-house data labeling software for annotation, dataset collection and other micro tasks.
Create Project
Annotate
Evaluate
Scale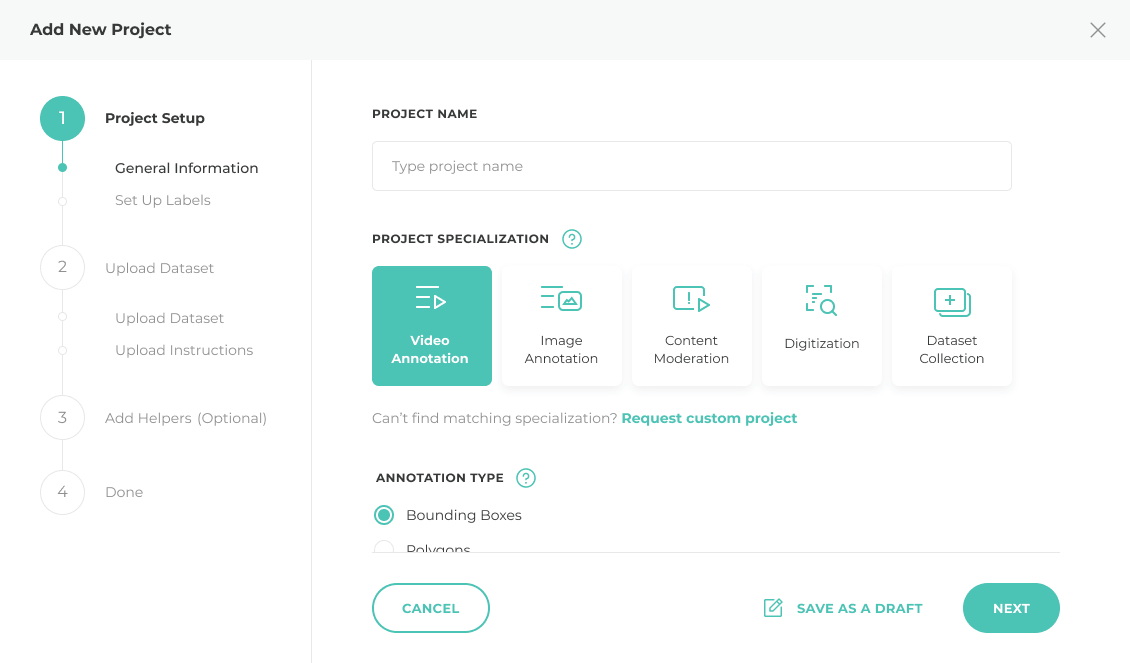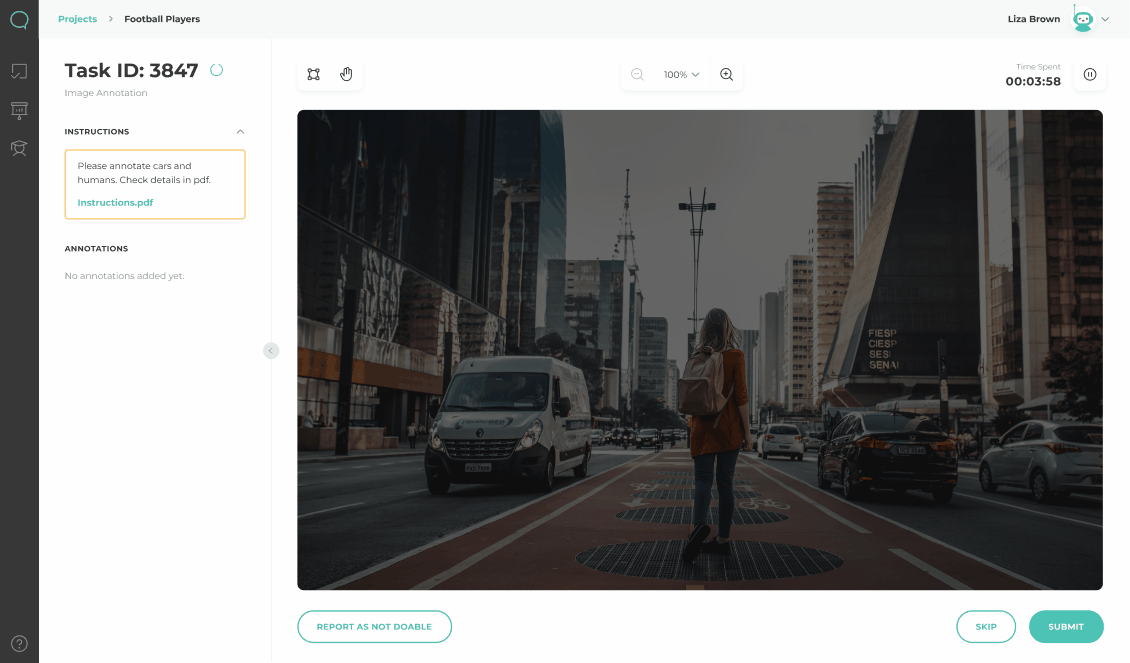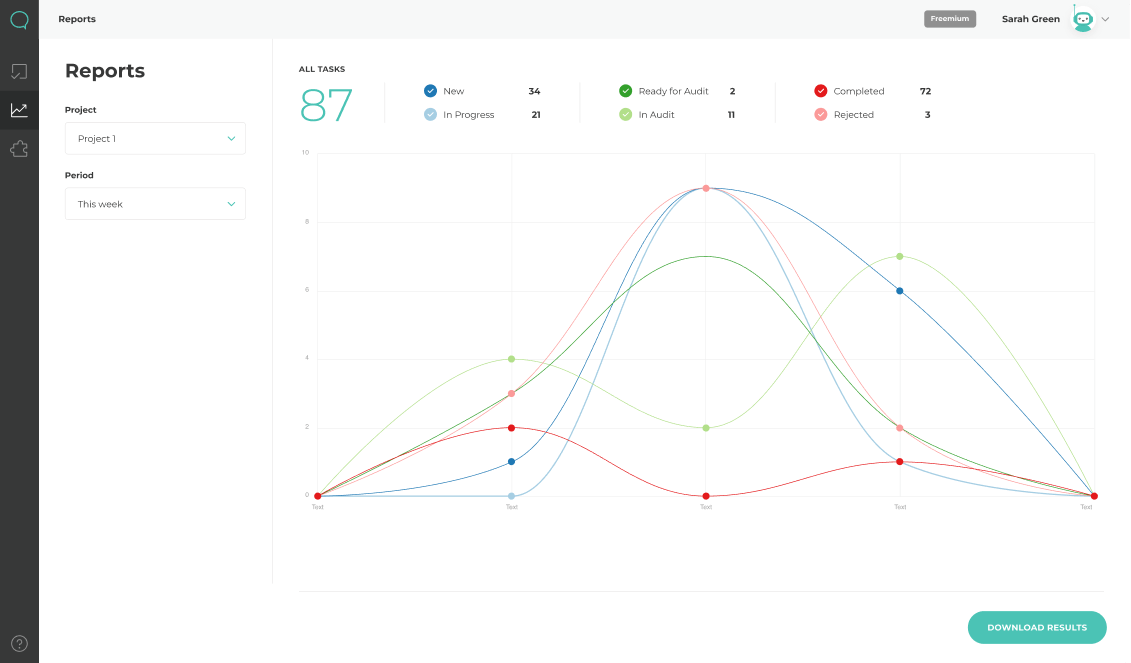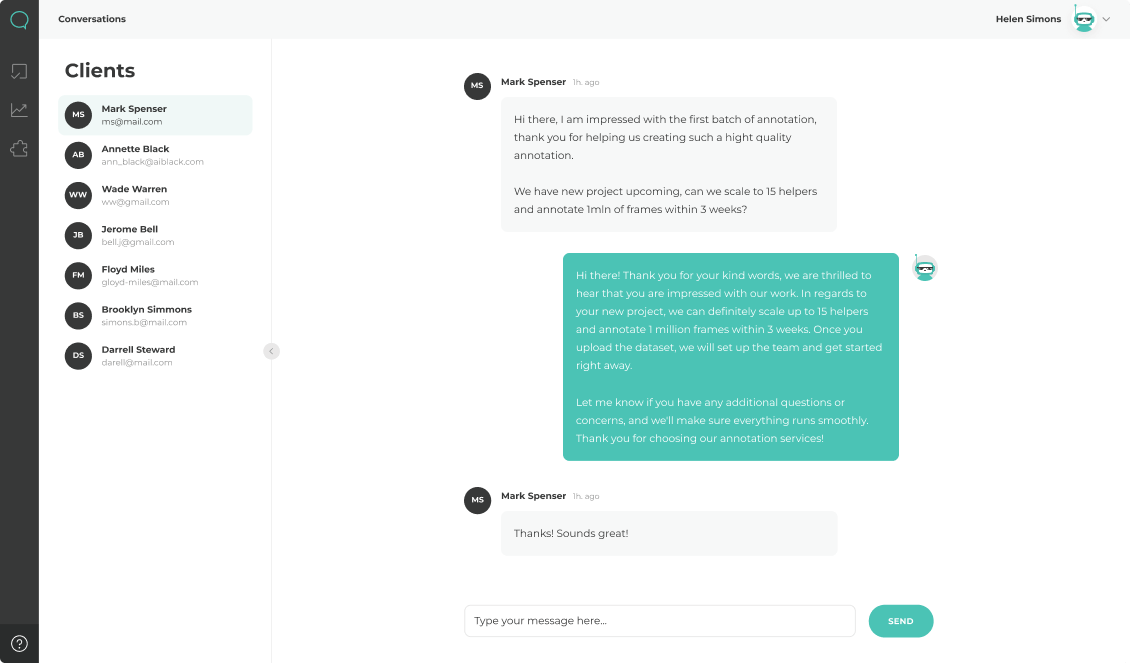 Top grade security level
We tested our platform for security issues and got excellent results. The security exceeds "Industry Best Practice" standards.
CUSTOMER SUCCESS
Case Studies
The retail landscape is more competitive than ever. We help to create a personalized, unique retail experience for our clients through the Taskware platform.
PROBLEM
It can be difficult for customers to find the exact product they're looking for. Even when they find the right image, there's no guarantee that the product will actually look like that in real life. It's a frustrating experience that often ends with customers giving up and going to a brick-and-mortar store instead.
Solution
We combine human expertise and artificial intelligence to annotate images and videos so that search engines can properly index them. This makes it much easier for customers to find the products they're looking for and allows retailers to finally take advantage of the power of online selling.
The retail landscape is more competitive than ever. We help to create a personalized, unique retail experience for our clients through the Taskware platform.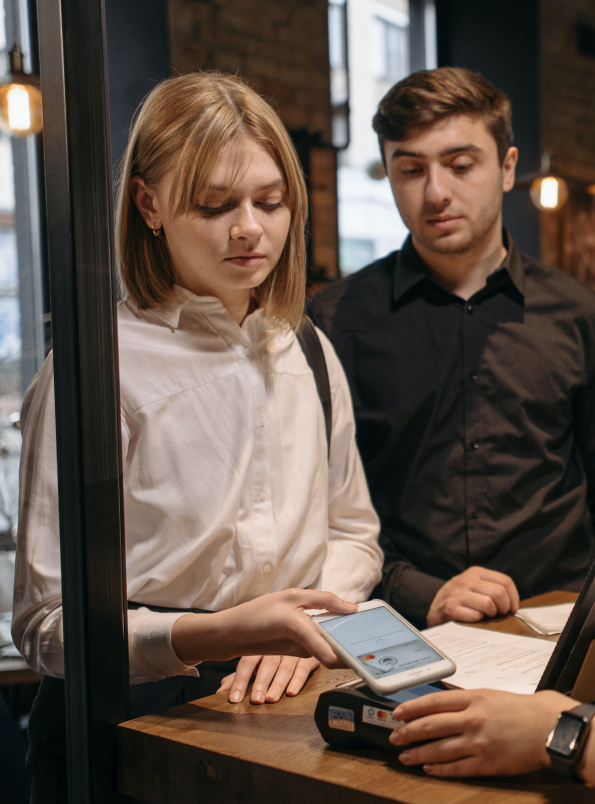 E-Commerce is one of the fast-growing industries now. Our data labeling platform will help to be one step forward than competitors.
PROBLEM
In today's age of e-commerce, businesses are under pressure to create websites that are easy to navigate and offer a seamless user experience. Users should be able to find what they're looking for quickly and easily, without struggling to click through endless pages of products.
Solution
Our team specializes in website categorization and localization, two essential elements of effective website design. We'll work with you to create a customized solution that meets your unique needs. If you're ready to take your website to the next level, we are always ready to solve your problems.
E-Commerce is one of the fast-growing industries now. Our data labeling platform will help to be one step forward than competitors.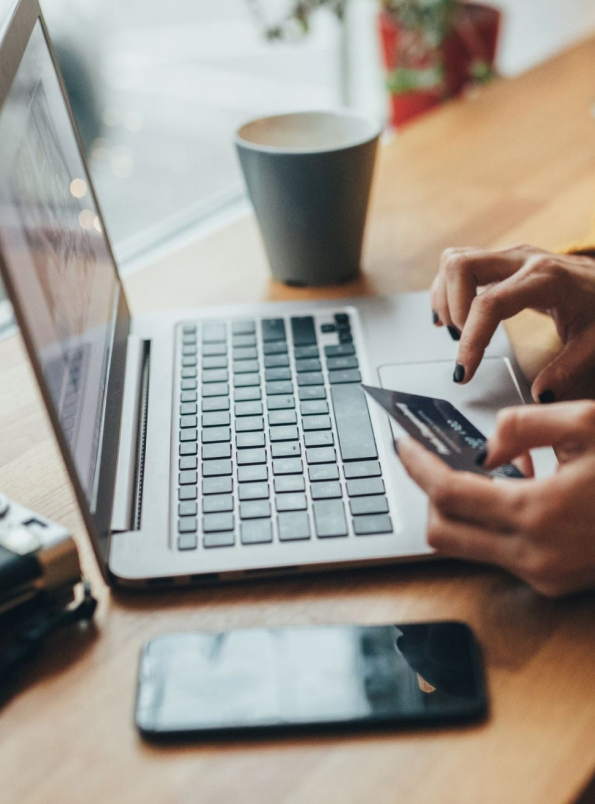 Data labeling will help to scale up the effectiveness of modern agriculture companies. Taskware knows how.
PROBLEM
The quality of data annotation is essential for the accuracy of machine learning models. Poorly annotated data can lead to false-positive signals, which can have devastating consequences for crops and livestock and result in significant financial losses for farmers.
Solution
With our experienced team of annotators, we can help you improve the quality of your data while reducing false-positive signals from AI. So if you're looking for a way to improve your agricultural operations, we'll be happy to help you get the most out of your data.
Data labeling will help to scale up the effectiveness of modern agriculture companies. Taskware knows how.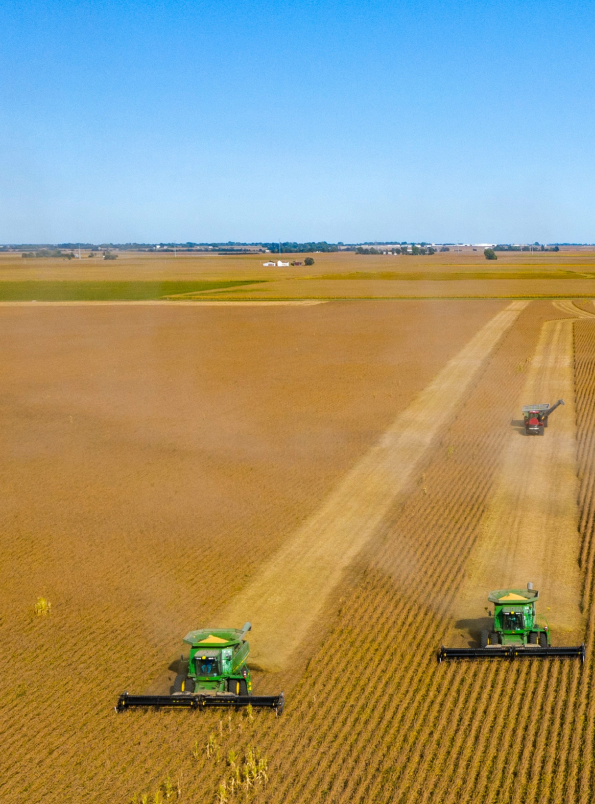 What types of data labeling services do you offer?
We offer a wide range of data labeling services, including text classification, object detection, image and video annotation, sentiment analysis, speech recognition, and natural language processing. Our services can be customized to meet your specific needs and requirements.
How do you charge for your services?
Our pricing model is based on the specific requirements of your project, including the complexity of the task, the volume of data to be labeled, and the turnaround time required. We typically charge on a hour-rate basis, with a unit defined as a specific task or piece of data to be labeled. We are committed to providing transparent and competitive pricing for all of our clients.
How do you ensure accurate labeling of my data?
We have a variety of quality control measures in place to ensure accurate labeling, including human oversight, consensus-based labeling, and statistical validation. Our labeling team is highly trained and experienced, and we work closely with our clients to establish clear performance metrics and validation procedures.
How quickly can you complete labeling projects?
We are dedicated to meeting the deadlines set by our clients, thanks to our large community of full-time employees and helpers. We can easily scale up our workforce from 5 to 100 people within a week. For instance, we were able to categorize over 30,000 websites reviews into 50 categories within just one week.
How do you ensure the security and confidentiality of my data?
We take data security and confidentiality very seriously, and we have robust measures in place to protect our clients' data. These include physical security measures, such as restricted access to our labeling facilities, as well as digital security measures, such as data encryption and secure data storage protocols.
What tools and technology do you use for data labeling?
We use a variety of industry-leading tools and technology for data labeling, including custom-built labeling tools, as well as third-party software and platforms. We work closely with our clients to identify the most appropriate tools and technologies for each project.
What languages do you support for labeling?
We support labeling in a wide range of languages, including English, Spanish, French, German, Chinese, Japanese, Korean, and many others. We work closely with our clients to identify any specific language requirements for their projects and to ensure that we can provide accurate and high-quality labeling services in those languages.
Can you handle large-scale data labeling projects?
Yes, we have extensive experience handling large-scale data labeling projects for a wide range of clients across multiple industries. We have the resources, expertise, and capacity to scale up our labeling services to meet the needs of even the largest and most complex projects.
What is your process for handling and resolving any issues or errors that may arise during the labeling process?
We have a clear and well-defined process for handling and resolving any issues or errors that may arise during the labeling process. This includes tracking and reporting of all labeling errors, as well as regular review and analysis of our quality control measures to identify areas for improvement. We work closely with our clients to identify any issues or errors and to take prompt corrective action as needed to ensure high-quality results.
Changes and Trends That Will Shape the Future of Data Labeling
As businesses continue to generate enormous amounts of data, the demand for high-quality
data labeling
is expected to grow exponentially in the coming years. With more and more companies relying on machine learning models to automate their processes and decision-making, the quality of labeled data will become increasingly crucial.According to a recent report by Grand View Research, the global data annotation tools market is expected to reach $2.9 billion by 2027, with a compound annual growth rate of 25.3% from 2020 to 2027. This exponential growth can be attributed to the increasing demand for high-quality labeled data across diverse industries.In the future, we can expect to see more advanced and sophisticated tools and services for
data labeling
that offer improved accuracy, speed, and efficiency. With the rise of deep learning and other advanced machine learning techniques, data labeling will become even more critical to ensure that the models are trained accurately.Why the Market for Machine Learning Labelling Is Booming: Main Drivers of Demand
It has always been a fact that new tendencies and changes in diverse industries make people motivated to follow them and improve something they are used to. The same about businesses, their constant pursuit of better results and success requires them to follow new trends and rebuild their outdated strategies.How fortunate we are to be living in an era of
machine learning labeling
when data annotation takes a major leap forward allowing us to use advanced tools and technologies, such as computer vision, NLP, and deep learning algorithms.The improvement of
image labeling tools
and mobile computing platforms is the most significant driver behind such modifications. The market demand for
labeling services
is primarily driven by these major factors.
The increasing adoption of cloud-based computing resources and the availability of efficient tools for annotating large datasets.
Businesses' growing demand for data annotation tools to accurately label vast amounts of training data, including images, video, and

text labeling

for AI projects.
The increased investments in the development of autonomous driving technology and the subsequent need for well-annotated data to improve driverless ML models.
The growing need for high-quality labeled data in industries such as healthcare, finance, and retail as more companies aim to leverage the power of AI and machine learning for competitive advantage.
Data labeling
has numerous applications across various industries. For example, In the agricultural sector, data labeling can assist with crop monitoring and soil assessment, providing farmers with actionable insights to improve yields and optimize their operations.In the digital commerce industry, data labeling can help improve the customer experience by providing personalized recommendations based on user behavior and preferences. There are plenty of other examples in versatile industries of how
labeling services
can come into play.Top Tech Trends in Labeling Service to Consider for Your Business
One trend that is expected to shape the future of
data labeling service
is the increasing use of AI-assisted labeling. AI algorithms can assist human annotators in quickly and accurately labeling large datasets, reducing the time and cost associated with manual labeling. This technology can also help identify patterns and trends in the data, making the labeling process even more efficient.Another trend that we can expect to see in the future is the growing adoption of cloud-based
data labeling. Cloud-based solutions offer several benefits, including flexibility, scalability, and cost-effectiveness, making them ideal for businesses of all sizes. Cloud-based
labeling tools
also provide a secure and centralized platform for storing and managing labeled data, making it easier to share and collaborate with team members.The creation of a currently-discussed digital immune system will help to unlock a resilient digital future for businesses without risks and with enhanced customer experience. In fact, experts predict that businesses with a robust
data labeling
system in place could experience up to an astounding 80% less downtime by 2025 leading to greater consumer satisfaction and a competitive edge in the marketplace.As the demand for
data labeling
continues to rise, businesses need to stay on top of the latest changes and trends in annotation services. With the rise of AI-assisted labeling and cloud-based solutions, the future of
data labeling services
looks promising, offering businesses the opportunity to streamline their workflows and improve the accuracy and efficiency of their machine-learning models.
read more