Businesses must offer a broad range of support functions to reach customers and offer them flawless experiences like customer support, technical support, digital marketing, and more. Investing in these services on-premise consumes significant time and money and requires complex infrastructure. However, outsourcing these functions to BPO experts allows companies to operate seamlessly and focus on other crucial tasks. Businesses are thus looking for the top BPO companies offering all-inclusive business process outsourcing solutions, including call center, tech support, customer support, digital marketing, and more.
GoodFirms recently recognized Helpware for its vast experience and extraordinary skills that put the company as one of the top industry leaders and market influencers through the Leaders Matrix program, and identified the company as the "Best Company to Work With." With multiple offices on four different continents, Helpware offers broad-spectrum BPO services to businesses across the globe and leaves no stone unturned in solving its clients' issues and helping them grow without limitations.
Helpware - Vision, Strength & Scope
As a reputed BPO services provider, Helpware delivers persistent consumer empowerment and experience interactions to help businesses perform better. It serves numerous clients across various industries, including eCommerce, enterprise, healthcare & medical, information technology, retail, startups, business services, gaming, real estate, government, and more. Over the years, Helpware has earned numerous loyal customers and excellent customer reviews. The company is rapidly growing and has recently opened another office in Africa to enhance its global presence and cover the ever-rising client base.
One of Helpware's clients had the front and back end for their application. However, they needed scalable resources to assist the public on phones, e-mail, and via their administrative application. Helpware provided the client with the skill and experience to scale support with results that exceeded objectives. The client was impressed with the Helpware team's work on this project and their culture that enabled strong communication from the executive level to the front-line agents, including training, line management, quality, etc.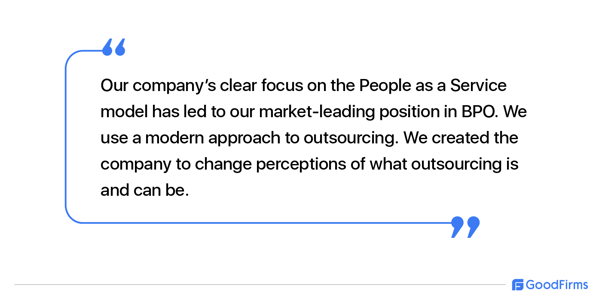 Another notable project by Helpware was facilitating business services for a client involved with them for almost 2 years for call center services. The client was very happy with the Helpware team's work on this project and rated them a full 5/5 for the services. The client highly recommends Helpware for call center operations, highlighting that the entire team, from agents to top leadership, is awesome to work with, always willing to run with suggestions, and good at providing valuable tips to help improve processes.
"Our company's clear focus on the People as a Service model has led to our market-leading position in BPO. We use a modern approach to outsourcing. We created the company to change perceptions of what outsourcing is and can be," says Helpware's CEO, Robert Nash.
A few reviews of Helpware: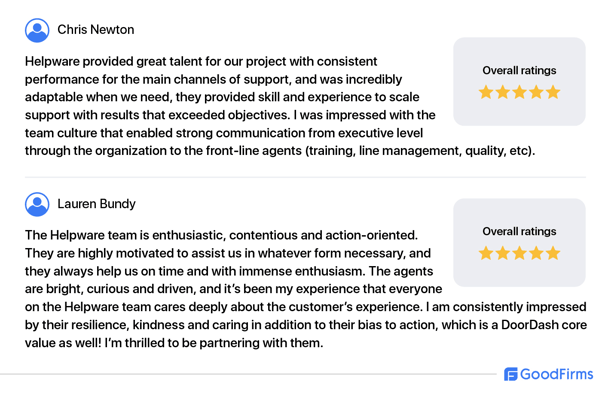 Why is Helpware the Best Company to Work With?
Helpware has the perfect combination of creativity, skills, agility, constant learning, innovation, experience, out-of-box thinking, customer centricity, professionalism, and cost efficiency, making it one of the most reliable BPO and other digital services partners for businesses worldwide. These traits enable the company to meet the dynamic needs of a rapidly changing global marketplace and stand out among competitors.
"We believe Helpware's positioning in GoodFirms' Leaders Matrix report reflects the company's exceptional ability to leverage its experience and expertise in offering superior business process outsourcing (BPO) services that help its clients to automate, digitally transform, operate seamlessly, enhance customer satisfaction, shrink costs, and upsurge profits," said GoodFirms.
Helpware had to undergo a rigorous assessment under the GoodFirms Leaders Matrix program. The evaluation covered the service landscape, verified client reviews, experience in the domain, market, competitive positioning, and much more. Such analysis helped in bringing out strategic information about Helpware's capabilities, competitive differentiation, and market position.

About the "Best Company to Work With" Badge
"Best Company To Work With" is an exclusive program run by GoodFirms where the Leaders Matrix companies are recognized with a Badge, an exclusive article about the Company, and a supporting PR. Such recognition stands as a support to developing trust and authenticity within the B2B community. It also allows the participating companies to improve their ranking - rank higher in the Leaders Matrix categories, receive inbound backlinks from GoodFirms LeadersRoundtable podcast campaign, and get a certified Badge saying, "Best Company to Work With."
About GoodFirms
GoodFirms is a B2B research, review, and listing platform helping businesses accelerate their digital journey and to maximize the value of modern technology. The company connects service providers with service seekers through a comprehensive and thoroughly researched fact-based list of the best services and solutions. Recognized as the most reliable source for the B2B market, GoodFirms has world-class experience with partners across the globe.