Helpware was again recognized by Clutch, a leading B2B market research firm, for excellence in providing business services. According to the Clutch 2019 report, we are ranked among the top IT and business services providers in The Philippines, a designation that we do not take lightly.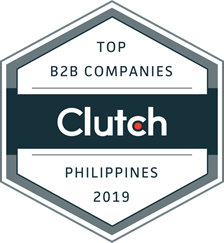 Although we are thankful, this award comes as no surprise to our team. Exceptional dedication to customer needs is the norm here at Helpware, and our industry-topping approach gives clients everything they need to achieve success. Our goal at this point is to share our services with as many individuals as possible, and Clutch serves as a perfect vehicle for achieving this.
Boasting a remarkably large collection of reviews, our Clutch profile serves as an excellent starting point for anyone who wants to learn more about services. Clutch analysts conduct in-depth client interviews as part of their comprehensive market research methodology. These reviews are then posted on Clutch's website as a resource for potential B2B service buyers.
Each of these reviews functions as a case study, offering both quantitative and qualitative details about the project. While giving feedback about one of our most recent engagements, one of our clients had this to say about their experience working with us:

"Helpware distinguished themselves by going above and beyond to make the project go smoothly. Other vendors asked us to change our processes to match theirs, but Helpware made sure to find a process that would make it as easy for us as possible to work with them." – Director of Operations, Sports Analytics Firm
In addition to being ranked highly on Clutch, Helpware is also featured on The Manifest, a B2B news and how-to resource site. Both Clutch and The Manifest work in tandem with Visual Objects, a portfolio site, to offer a comprehensive collection of market data and insights. You can be sure that companies showcased on Visual Objects, The Manifest, and Clutch will deliver successful projects.
We're grateful to our clients for leaving such thoughtful reviews on Clutch. Interested in learning more? Send us a custom proposal to see how we can support your business goals!