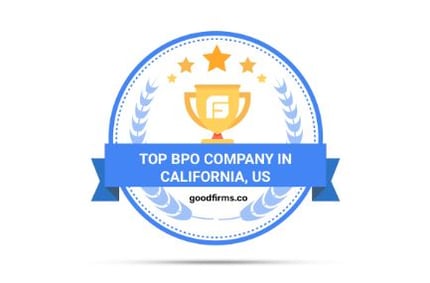 Allowing the clients to focus more on sales by turning the projects and ideas into process and operations endows Helpware to thrive at GoodFirms amongst the top BPO service providers in California.
A Company with a Modern Approach:
Incepted in 2016, Helpware is an outsourcing company based in California. Having offices in Irvine, Lexington, Kyiv, Manila, and Guadalajara, Helpware owns the global scale to tailor custom teams and processes for success to their many powerhouse clients. It helps business people to form customized units in customer service and back-office for industry-leading startups and modern companies.
The company holds a team of doers, tinkerers, and thinkers. They take on clients' projects and ideas and convert them into processes and operations enabling them to focus on scaling their respective business. Besides this, Helpware's team connects with the clients' business units as their extra hands. It gives them ideas and process capabilities to boost their businesses while focusing on their core competencies truly.
Working Pattern of Helpware:
An onboarding manager is assigned to the clients' business to help the clients build their team using a detailed project management approach from road mapping to recruiting, processes, training, and launch. Thereafter, the recruiting team conducts sourcing and headhunting to interview, test, and ultimately build a custom team that tailor-fits to clients' business.
Moreover, the training team at Helpware facilitates and builds training documentation in partnership with clients to produce a certification plan for the newly hired. Once the training certification is over, the Helpware's team members get 100% involved with the clients' business. Furthermore, the expert group at Helpware assigns a manager to the clients' business team to ensure work is being done correctly and also to measure KPIs and goals.
Lastly, a CSM is assigned to clients' businesses to ensure they are happy with Helpware. They will help to improve the processes continuously by managing clients' work and team members. Hence, leveling up production, increasing efficiency, improving the bottom line, and growing clients' team entitles Helpware to be positioned as one of the top BPO firms in California at GoodFirms.
The review displayed below is evidence of the quality service offerings proffered by the Helpware team.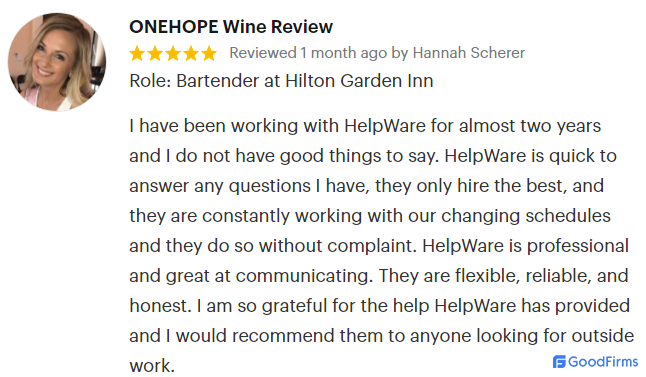 GoodFirms' Research Process:
GoodFirms is an online evaluation portal that drives vibrant and well-performing IT and software companies. With its extensive analysis process, GoodFirms evaluate businesses and software that help service-seekers to get their ideal match. For evaluating listed companies, GoodFirms relies on the three most essential parameters, viz Quality, Ability, and Reliability.
The GoodFirms team also assessed Helpware and found the firm to be a successful company in producing outstanding services and solutions in BPO, customer, and back-office services at GoodFirms.
Serving as Game Changer:
At Helpware, the in-house team helps businesses build customized units for their contemporary businesses. The expert team strives to customize everything right from recruitment to training to ongoing success for their business. Even better, Helpware is called a secret weapon for startups, as the latter can seek help from the company's experts to reduce costs and boost clientele experience, resulting in higher scalability.
Helpware provides dedicated agents to provide a concierge level of service to client's users via phone, chat, email, in-app, and social media support. Moreover, expert professionals help business people by assisting them in over 20 different languages for their customers worldwide.
Furthermore, the group at Helpware accouches dedicated agents with a variety of tech backgrounds that are trained to handle the most technical issues with a concierge level of service.
Apart from this, the dedicated customer success managers strive to maintain healthy relationships, fight churn, improve NPS, and upsell! Thus, assigning the onboarding team and improving clients' customer services bolsters Helpware's position as one of the best customer service companies amongst the listed ones at GoodFirms.
The review obtained at GoodFirms is confirming the quality service offerings proffered at Helpware.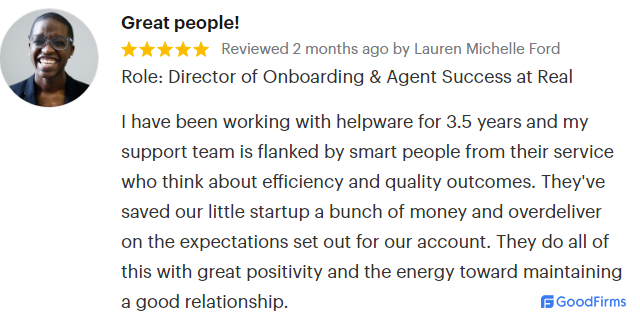 Serving to Improve Clients' Business Processes:
The back office specialists at Helpware work tirelessly to improve all of the clients' business processes. They continuously measure the performance against scorecards with a detailed quality control framework. The group of experts at Helpware monitors and applies clients' business predetermined rules for user-generated content to remove or approve the content. They also provide typists, transcribers, coders, and clerks to handle all of the clients' business data entry needs.
Moreover, the team handles every aspect of web research for their clients by including a well-designed QA program to achieve the desired results for their team. The dedicated agents help the consumers to keep their order processes streamlined by managing all order aspects, including returns.
Assuring customers to have an effortless account set up by a 100% dedicated back office team allows Helpware grabs GoodFirms' attention as one of the top back-office services amongst the listed ones.
The review displayed below is proof of the excellent services rendered by the team at GoodFirms.

About GoodFirms
Washington, D.C.-based GoodFirms is an innovative B2B Research and Reviews Company that extensively combs the market to find top customer support, back office, and BPO services firms that offer the best services to its customers. GoodFirms' extensive researches processes rank the companies, boost their online reputation, and help service seekers pick the right technology partner that meets their business needs.
About the Author
Anna Stark is a staff writer with GoodFirms – a Washington D.C.-based B2B Research Company that bridges the gap between service seekers and service providers. Anna's current role includes gauging companies' performances and their key attributes and putting them into words. She firmly believes in the magic of words and is always on the lookout for new strategies and ideas that companies have gladly embraced, and then helps them shine a light on those to make their identities shine brighter.